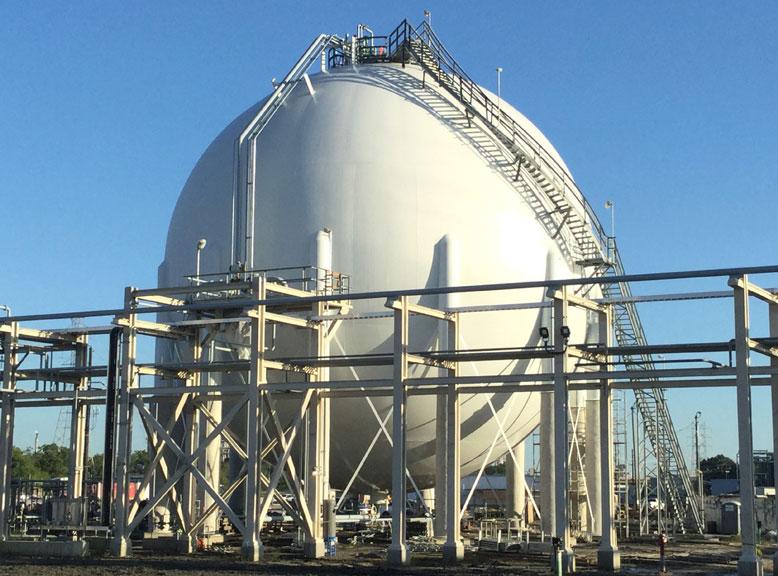 Project Detail
To meet anticipated growth in the Ethylene to Butene-1 market, the site owner of a Baytown, TX petrochemical facility wanted to store and supply Butene-1 from the co-located existing Ethylene facility. The site owner decided to build a process manufacturing plant which opened in 2018 to accomplish this objective.
The $200 million facility provides co-monomer for polymer plant producing Polyethylene and converts petrochemical feedstock into the final olefin product, Butene-1, by dimerizing Ethylene.
Butene-1 is a colorless gas having an aromatic, gasoline odor and is slightly soluble in water. It is an important commercial chemical that is used in gasoline and rubber compounds and to make other chemicals.
To store the Butene-1, the general contractor awarded Tarsco a contract to build (1) ASME sphere to store the Butene-1 product.
The project included the following activities:
(1) ASME Div. 1 Sphere 72' dia. x 75 psig
35,000 barrels of product capacity
Engineering
Procurement
Fabrication
Construction
Fireproofing
Exterior coating
Staircase
Top platform
The completion of this sphere provided much needed product storage to enable the owner to meet the demand for Butene-1. The owner has secured long-term fee-based offtake agreements with multiple buyers that have committed to take nearly all of the nameplate 100,000 t/y Butene-1 capacity.

Download the Project Profile