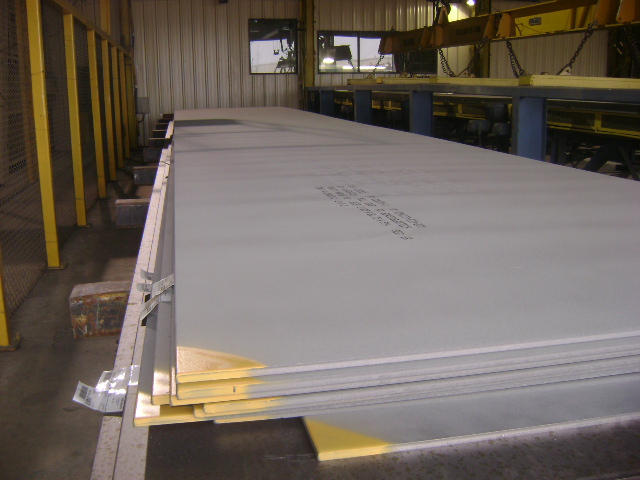 Our platelines offer an innovative, automated system to consistently blast and apply specialized pre-construction primers to steel plate in high volume and unsurpassed quality and traceability.
Automated Plateline Process
Processing is simple at Blastech. Once we receive a purchase order and the steel plate, we can determine scheduling and begin processing. It's that simple.
Blastech's plateline is automated to maintain consistency and reduce cost. The automated plateline ensures that the blast profile and coating thickness always meet specifications without any rework involved. The result: reduced time and costs.
Arrival Date
SSAB material information is electronically transferred to Blastech's BlastLogix system. Material information from direct steel vendors is manually verified and entered into the same system. All data gathered will be used to remark the plates after processing guaranteeing proper traceability.
Quality Control
Each plate is inspected for contamination or defects. Upon approval, the plate will be loaded onto a transfer car.
Abrasive Blasting
The custom built plateline uses a steel grit/shot blend to remove mill scale and create an angular profile of 1.5 – 2.5 mils to meet SSPC-SP10/ NACE # 2 (Near White) metal specification. Operators continually monitor this process and measure the blast profile according to our REDI-PLATE™ technical data sheet specification. Air cannons and a brush off remove abrasive material and debris to produce a surface free from embedded grit and dust.
Pre-Heat
Plates are preheated to ensure perfect conditions for coating.
Painting/Priming
The protective coating specified by the customer (REDI-PLATE™ - weldable pre-construction primer, CPP - Clear Plate Preservative, or inorganic/organic zinc primer) is spray-applied by robotic arms moving above and below the plate. Operators continually monitor this process and manually collect test coupons to measure the paint film thickness to our REDI-PLATE™ specification. The plate is heated again to accelerate the safe handling of the applied primer.
Marking
Using the information entered into BlastLogix at the start of the process, the plate is re-identified using a state-of-the-art UV cured ink marker with all traceability components.
Quality Assurance
Automated sampling devices constantly measure and record atmospheric conditions. All quality data is entered into our QRC database for easy retrieval. This information can be forwarded at customer request.
Shipping
The process is complete when the steel plate has been blasted and coated then ships by truck, railcar, or barge.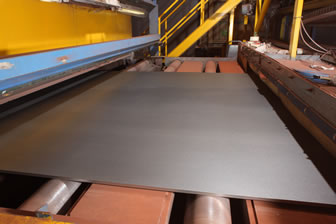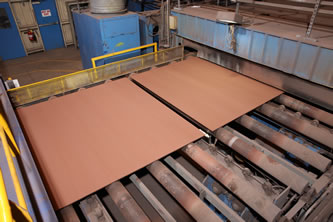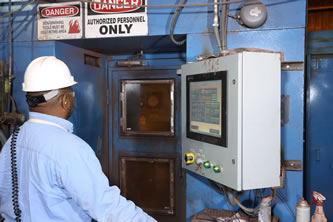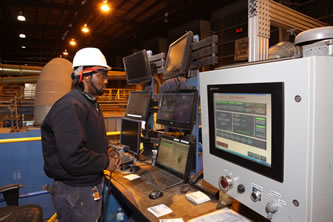 World Leaders in Corrosion Control
REDI-PLATE™, the abrasive cleaning and coating of steel plate with specially formulated inorganic pre-construction primers prior to fabrication, is cost effective and environmentally responsible.
Blastech, specialist applicators of corrosion resistant coatings offer REDI-PLATE™ from their custom built facilities in Brantford, Ontario and Mobile, Alabama.
The fully automatic process prepares the plate to SSPC SP 10/NACE No. 2 Surface Preparation Specification to produce a sharp dense profile of 1.5 - 2.5 mils.
Immediately following surface preparation, an inorganic pre-construction primer is applied to a controlled film thickness of .6 - .8 mils (15 - 20 microns).The process is contained and permitted to comply with environmental regulations. Each plate is entered into a data base for accurate tracking by size and heat number. Following processing, each plate is re-marked with the original identifying numbers to ensure complete traceability.
During processing, the plate is inspected, and if necessary, surface conditions are recorded and reported.
Our quality system records surface preparation details, coating thickness and lot numbers. Blastech's quality system ensures our capability to provide processing and application to comply with any international standard.
The fabricator is able to flame, plasma or laser cut; shape; and weld the processed plates to classification society standards with demonstrable cost benefits obtained from improved production and minimal surface preparation. The REDI-PLATE™ fabricated product can then be coated with virtually any topcoat system.
Blastech partners with steel plate producers and steel distributors to offer REDI-PLATE™ throughout North America. We also process plate for our many fabricator customers who wish to ship their own material to our facility.
Our unique REDI-PLATE™ management system tracks each and every plate in a customer driven database to ensure "just-in-time" delivery. The database is retained as a permanent record and is easily accessed to review quality and commercial inquiries.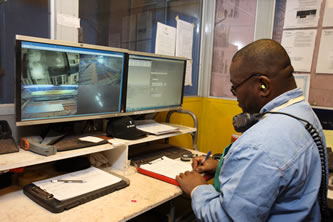 Benefits of REDI-PLATE™
Reduces the need for post fabrication blasting by as much as 80%. VOC costs are eliminated.
Eliminates cost of inspection to ensure plate surface is suitable for use.
Improved flow through shop.
Provides specified profile for application of weldable primer and subsequent costs, saving cost of post-fabrication blasting.
Improved coating system performance.
Reduces corrosion rate prior to finishing.
Saves the cost of weld splatter removal.
Minimizes cost of surface preparation after fabrication.
Allows fabricator to ensure that inbound materials meet required standards. Potential for reduction of incoming inspection costs.
Eliminates cost of touch-up of weldable primer.
Products: REDI-PLATE™, Clear Plate Preservation (CPP)
Our facility is capable of applying a variety of coatings from all manufacturers. Below is a list of categories of coatings we apply as part of our standard process. Contact us for more details regarding your project's specifications.
REDI-PLATE™ solvent based inorganic zinc primer

REDI-PLATE™
Technical Data Sheet
Blastech's weldable pre-construction primer is ideal for fabrication projects using steel plate because:
It reduces or eliminates cost of post-fabrication blast cleaning
Protects steel from oxidation during fabrication
Suitable for welding, burning, rolling and forming
Standard marine industry plate coating
Clear Plate Preservation (CPP)

CPP Technical Data Sheet
CPP is a clear coating and is an alternative to zinc primer. This protective coating is exclusive to the TF Warren Group and is an oil-free chemical preservative treatment. CPP is also cost effective because:
It replaces the "blast and oil procedure"
It eliminates oil contamination on the plate
Reduces need to clean rolling and handling equipment
Full coat of organic or inorganic zinc primer

Full Coat Offerings for the Tank Industry
The application of organic or inorganic zinc primer included in many paint systems is masked along the perimeter of the plate to permit cutting, burning and welding. This method is beneficial because:
It offers a more consistent coating thickness than field painting
It can be applied from 1.5 – 5.0 mils DFT
The automated process reduces field labor cost