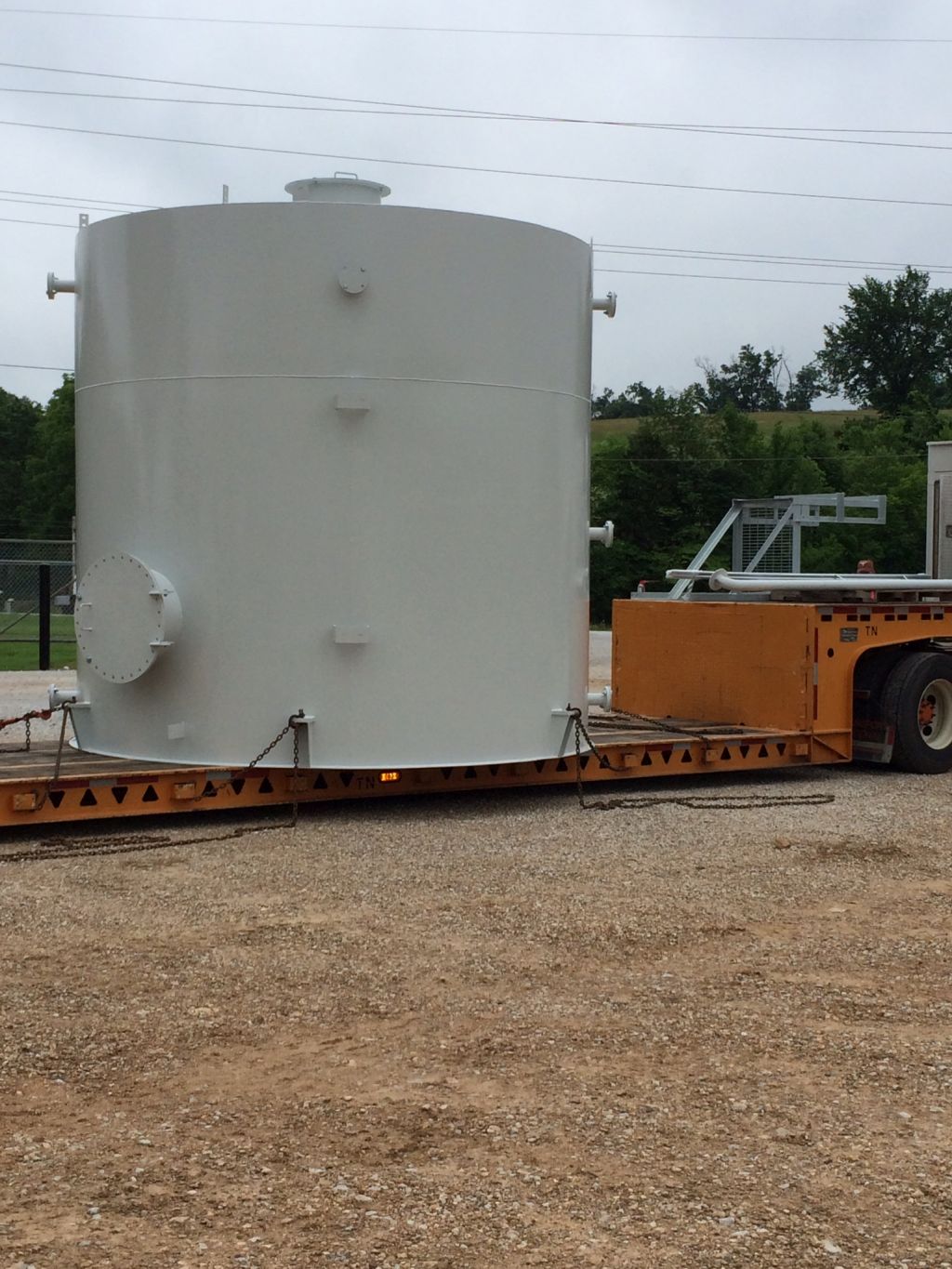 Tarsco specializes in the fabrication, shipment and installation of shop-welded tanks. Our facility is equipped with the latest and most modern machinery designed to fabricate your shop-welded tank to the highest quality standards.
Tarsco has over 35 years of experience in the storage tank industry; we employ this knowledge to provide innovative solutions for your shop-welded tank needs. Shop-welded tanks are custom-fabricated in our state-of-the-art facility and shipped to the field as one-piece construction. When they arrive, they can be moved with a crane and immediately set into place or staged for installation at a later date. When shop-welded tanks are utilized, field installation time frames can be greatly reduced. Shop-welded tank sizes range from 6′ to 14′ in diameter, with tank heights up to 85′ and single-piece shipments up to 40′ in height. Volume ranges are 1,500 to 112,000 gallons. Welded tanks can be designed to meet NFPA 68, AWWA D100, API (American Petroleum Institute) 650 and 12F.
Welded Tank Coatings Interior Coatings: Our factory coatings are FDA and NSF approved and is designed for abrasion, corrosion and flow promotion. Exterior Coatings: Factory exterior coatings are designed for the exposed environmental elements and low maintenance requirements.
Hoppers Tarsco can provide standard hopper slopes of 45, 50, 55, 60, 65 and 70 degrees. Custom hopper slopes available from 5 to 85 degrees, based on product flow testing.
Location and Shipping Our centralized location in Southwest Missouri allows us to ship shop welded tanks throughout North America with ease and in a cost-effective manner. Shop-welded tanks are loaded on special, low-profile trailers for shipment.
Turnkey Solutions Tarsco can complete your project from concept to completion. From the beginning, we work with you to create a solution of uncompromised quality that'll fit your budget and schedule. Our team of highly trained staff can provide assistance with foundation design, engineering and installation.
Additional products include:
auxiliary equipment,
hopper bottoms,
control valves,
slide gates
support structures.