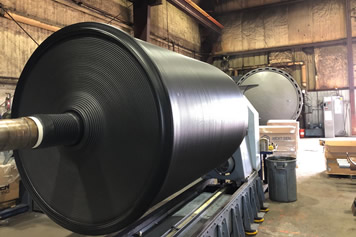 We fabricate steel cores and offer rubber & polyurethane formulations, as well as cast urethane parts for the steel & aluminum processing, pulp & paper, and packaging industries.
Brant Industrial Roll is a leader in rubber and polyurethane roll covers. Supplying innovative rubber and polyurethane formulations to the steel and aluminum processing, pulp and paper, and packaging industries.
We supply our own rubber and polyurethane formulations and we cast urethane parts, uncoiler/recoiler sleeves, slitter rings, and coil pads.
Founded in 1994 and accredited to ISO-9001-2015, this facility specializes in providing rubber and polyurethane covered rolls and cast urethane parts to OEM and end user markets. Brant Industrial Roll represents specialty suppliers for your laser alignment requirements, FEP/PFA sleeved and Bonell manufacturing. We provide solutions to your most critical applications with our TF DIAMOND standard polymer compounds.
We also provide journal repair, grooving, crowning, balancing, NDT testing, new core fabrication, bearing removal and installation, grooving and custom crates.

Download
ISO Certification