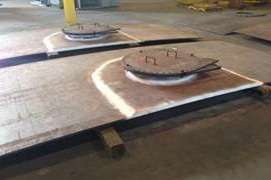 Overview
Total Plate is now offering post weld heat treat processing as part of our services to meet the requirements of API 650 tanks. We can now look after all of your insert needs, as well as supplying nozzles and man-ways.
Oven size: 11' tall, 14' wide, and 48' long.
Serviced by a 50 ton crane.
Benefits to Customers
At Total Plate, we are specialists in supplying the tank construction industry.
We offer a full package of:
Steel plate supply
Blasted and coated including zincs and epoxies
Cut, beveled, and rolled to your specifications
Forming (pontoons, windgirders, etc.)
PWHT of shell plate including nozzles and man-ways
All shipped directly to your job site
COMBINED SERVICES EQUAL SIGNIFICANT COST SAVINGS!