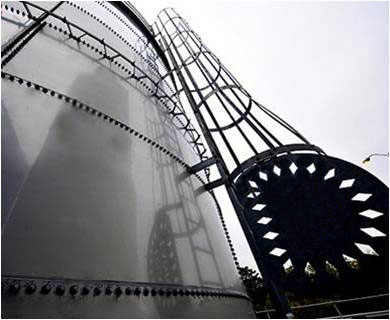 Tarsco Bolted Tank engineers, manufactures and constructs above-ground bolted storage tank systems that are customized to meet individual client specifications. Our liquid and dry-storage solutions set the standard for quality and are constructed in a timely manner that is also cost effective.
The Tarsco Bolted Tank Experience
Tarsco Bolted Tank engineers, manufactures and constructs above-ground bolted storage tank systems that are customized to meet individual client specifications. Our liquid and dry-storage solutions set the standard for quality and are constructed in a timely manner that is also cost effective. Tarsco Bolted Tank has grown for more than 30 years by providing professional services and developing long-term business relationships.
We offer unparalleled expertise and technical knowledge to professionals in energy and power, water and wastewater, dry bulk, oil and gas, fire protection, and the fractionation sand-processing industries. Our customers gain the benefit of our extensive global experience in all environments and climates and our design and manufacturing process is guaranteed to meet both national and international standards.
By utilizing the most advanced materials available, we are capable of building up to 5 million gallon tanks. Tarsco Bolted Tank's decades of experience combined with our state-of-the-art engineering and manufacturing facility can supply you with any volume of storage you may require. We consistently manufacture products that meet and exceed our customer's requirements and expectations. Our staff and management work closely with clients to devise unique methods to simplify the assembly process and improve time estimates. Tarsco Bolted Tank is committed to providing superior products that are free of defects, delivered on time and paired with exceptional customer service.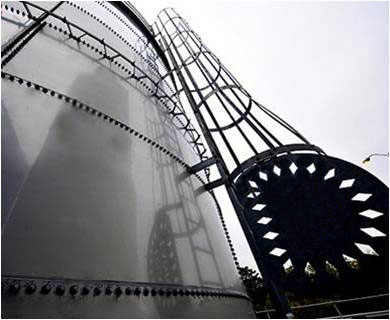 When you work with Tarsco Bolted Tank to craft your stainless steel storage tank there are several advantages you can count on:
Quality Products

All components and hardware for the tank are Stainless Steel. It is also possible to use galvanized components to reduce the cost of the tank.

Precision Manufacturing
Outstanding Customer Service
Timely Delivery
Individualized Attention
Cost savings for steel products
In-House Engineering Department
The following capabilities and services are offered to our customers through our in-house engineering department:
Design calculations and foundation designs
Tank drawings with the ability to locate all accessories
Approval drawings in AUTOCAD
PE stamps for all states are available
Specifications electronically
Design for any Seismic Zone, specific wind loads, deck load sand for future expansion.
Capacities up to 5 million gallons
At Tarsco Bolted Tank our construction management staff offers customers with the following:
Assigned contact through project completion ensuring effective communication and attention to detail.
Planning assistance, scheduling and drawing review.
Preliminary tank layout and confirmation.
Product specification and design criteria assistance.
Construction and Field Services
Tarsco Bolted Tank employs professional in-house crews with ample training and experience. This allows us to provide the following to our customers:
Tanks that are erected from ground level with a jacking system. This method of tank erection improves safety at the construction site, eliminates expensive cranes and enhances our ability to work in confined spaces. The entire construction process is completed by our qualified crews.
Tanks are erected by our field crews that are factory-trained direct employees. Our construction crews receive more than 120 hours of in-house safety training, which guarantees the completion of your project in a safe and efficient manner.
Tarsco Bolted Tank has earned an impressive safety record – our EMR reflects a record that is substantially better than the industry average.
Hydrostatic testing and commissioning.
Post-job service to ensure continued satisfaction.
Installation of tank insulation systems and additional components.
The Superior Choice: Stainless Steel
Stainless steel tanks offer numerous benefits over other types of metals. Some of these advantages include:
Eco-friendly: No rust, solvents or painting requirements.
Longevity: The durability of stainless steel is the result of the alloying composition, which makes it naturally resistant to corrosion. No additional systems are required to protect the base metal.
Corrosion Protection: Stainless steel is significantly more resistant to oxidation through contact with water than carbon steel, which means an external or internal coating and cathodic protection is not necessary. This results in a reduced system costs and makes stainless steel a more compatible choice for the environment.
Hygienic Materials: Due to very high passive film stability, stainless steel is essentially inert in potable water. This supports the quality and drinking integrity of the water. Stainless steel is used for high-purity pharmaceutical water, food products and ANSI/NSF drinking water.
Green/Recyclable: More than 50 percent of new stainless steel comes from old re-melted stainless steel scrap, thereby completing the full life-cycle.
Virtually Maintenance Free: Does not require coating and is resistant to a wide range of chemicals.
Temperature: Stainless steel remains ductile at all temperature ranges.
UV Resistance: Stainless steel properties are not impacted by exposure to UV light, which degrades paint and other coatings.
The Bolted Advantage
When stainless steel tanks are constructed with bolted flat panels they offer numerous benefits, which include:
Speed and ease of manufacturing and erection.
Worry-free quality in design coatings.
Least expensive solution over the lifetime of the product.
Inline design increases sealing capabilities.
Eco-friendly eliminating environmental concerns.
Lower erection cost due to economical shipping and elimination of field welding.
Bolted tanks offer residual value through their ability to be relocated and expanded.
The Tarsco Bolted Tank Advantage
We can create a storage tank solution that will agree with your budget and scheduling needs without compromising quality. Tarsco Bolted Tank works with clients at the national and global level to manufacture and construct projects with exceptional quality. We engineer our tanks to meet industry standards as well as client specifications to provide consistent quality in even the most demanding situations.
Our expertise and available resources allow us to execute a broad range of projects, in both size and complexity, tackling the unique challenges our customers face. Our dedicated and educated staff will meet and surpass all your requirements from conception to commissioning. We provide timely and informative quotes, proficient engineering, quality manufacturing, competent project management and well-trained construction crews to solve all your tank storage needs. Contact us today to learn more about our products and solutions and how you can get the customized storage tanks for your exact needs.