Bolted flat panel tanks from Tarsco provide you with the most cost-effective solution for your storage needs. By utilizing the best materials available we are able to build tanks that can hold up to 5 million gallons. Tarsco is dedicated to producing products that offer superior quality, are defect-free and supplied on time with exemplary customer service. We strive to manufacture products that meet and exceed our customer's expectations and requirements on a consistent basis. Our staff and management members work closely with clients to determine unique methods that reduce steps, speed up delivery time and simplify the assembly process.
Exceptional performance, reliability and straightforward installation are all offered by our flat panel bolted tanks. Decades of experience paired with our state-of-the-art manufacturing and engineering facility make it possible for Tarsco to provide you with any volume of storage you require.
We supply the most advanced technology in the bolted tank industry with our flat seam, field-assembled design. In order to dramatically reduce the possibility of bolted panel seam leaks, we utilize the latest sealant to replace all strip gaskets. Tarsco's flat panel design is superior to older flanged panel designs and provides a smooth interior wall surface.
The Flat Panel Bolted Advantage
Speed and ease of manufacturing and erection
Worry-free quality in design and coatings
Least expensive solution over lifetime
Green friendly eliminating environmental concerns
Lower erection cost due to economical shipping and elimination of field welding
Bolted tanks can be relocated and expanded, improving residual value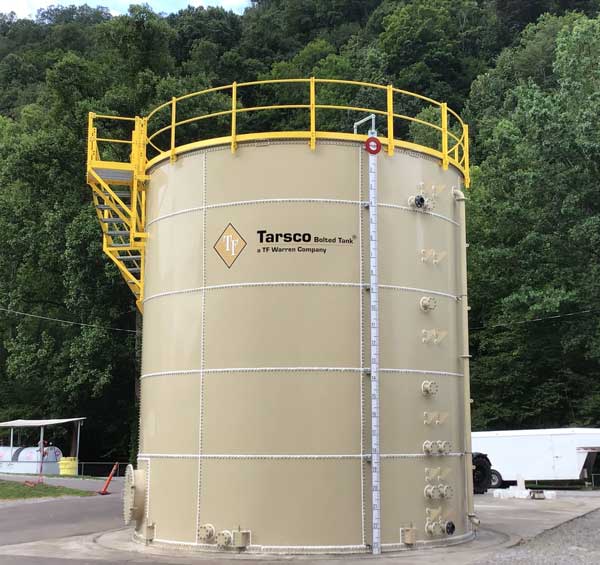 We erect our own tanks with field crews that are factory-trained direct employees. Our construction crews receive over 120 hours of in-house safety training, this guarantees your project is completed safe and efficiently. Tarsco has earned an impressive safety record – our EMR reflects a safety record substantially better than the industry average.
Tarsco has a team of professionals with extensive knowledge that can assist you with any volume of storage you may require. We can create a storage solution of uncompromised quality that'll fit your budget and schedule. Through decades of experience in tank sales and construction, we've learned that quality and value aren't negotiable. That's why thousands of companies worldwide rely on us for their liquid and dry bulk storage solutions.