Employees gathered this week to celebrate the 80th birthday of TF Warren Group's Technical Director, Trevor Neale. Celebrating over lunch, Trevor was forced to wear a moose hat - true Canadian style - while the restaurant and TF Warren staff sang "Happy Birthday."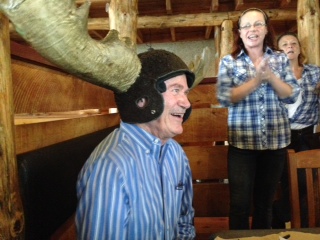 Trevor has been a member of the TF Warren Group for the past 20 years and actively involved in the development of sales and new technology throughout the group.
Born in London, UK in 1934, he attended Willesden Technical College, majoring in Paint Technology and Application, and he served in the British Royal Air Force during the Suez Canal War. Trevor was also awarded London City and Guilds Institute Full Technology Certificate in 1954.
Prior to joining Blastech in 1994, Trevor had been employed in the paint and coatings manufacturing industry in technical, sales and management positions in the Berger Paints Group UK based and traveling in the Caribbean for 20 years. He has also held positions at Ameron and International in North America for 20 years.
A long term member of NACE, he chaired NACE Committee T5 1A Investigating Corrosion in the Alumina Industry in 1967-1971 and a current member of the NACE Coatings Council, Trevor is constantly learning as the coatings industry develops. He has also been a Member of the Society of Protective Coatings (SSPC) since 1980 and Chairman of the Ontario Chapter of SSPC 1993-1995.
Trevor was the first recipient of the George Stone Memorial Award for services to the Ontario coatings industry in 1997.
In his personal life, Trevor is married to Jean and they share five children, twelve grandchildren and four great grandchildren. His hobby now is trying to keep up with his kids who live in various parts of the UK and North America.
---