Health, Safety and Environment
BLASTCO has demonstrated the ability to operate in a safe and conscientious manner to preserve its employees, the environment and the surrounding community.
Field work requires more planning and organization as each job site is different. Trained supervisors and management oversee job setup and progression to ensure each day functions as safely as possible. BLASTCO stresses the importance of safety for each employee and the surrounding environment to ensure both are in the same healthy condition as before the job began.
We ensure this through our attention to detail, thoughtful policies and in-depth training. We strongly believe that training and awareness are essential for employees to function as a team to keep the workplace safe and accident-free.
Training & Certifications at BLASTCO:
Initial and annual training
CPR/First Aid
Fall protection
Confined space training
Forklift certification
Lockout-Tagout training
Lead certification
Man lift training
GHS (Haz-Com) training
SSPC C-3 and annual C-5 training for all site supervisors
SSPC Certified Application Specialist (CAS) superintendents
QP1 & QP2 certification
NACE certification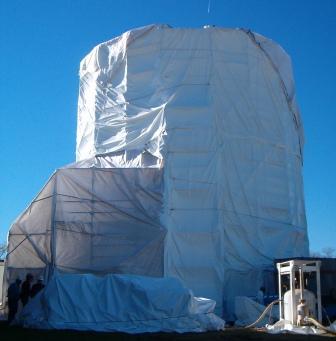 Lead Abatement
BLASTCO has a safe and efficient system for completing the complex requirements for successful lead coating removal on older structures. It requires testing before and after the job to ensure there has not been any lead contamination to employees or environment.
Samples are taken from the air and soil of the environment and the blood of employees to monitor the level of lead being exposed to each. With this constant monitoring, it is apparent when lead contamination is occurring and appropriate measures can be taken.
The containment contraptions are also heavily monitored to be immediately aware of lead contaminated material escaping. Site supervisors are required to shut down the site until the containment can be rectified.
As always, results are heavily documented to trace BLASTCO'S health, safety and environmental responsibility.
Corporate Safety Message
TF Warren Group senior management involvement is crucial to the success of our safety program. To that end the TF Warren Group Safety Management Committee has been formed. The committee, under the direction of the TF Warren Group Corporate Director of Health & Safety, is comprised of TF Warren Group senior management representatives and also includes the President/CEO.
Committee members confer weekly to establish and develop means of promoting and encouraging overall safety awareness and compliance within all of the TF Warren Group companies. This includes review of all H & S related incidents, standardization of safety policies, procedures, & reporting, ensuring adherence to health and safety regulations, safety training, and provision of adequate resources to sustain a successful safety culture and program.
Documenting and evaluating safety performance facilitates the recognition and acknowledgement of successful safety achievements: all with the common goal of striving to eliminate workplace illnesses and injuries within the TF Warren Group family of companies. Through awareness and cooperation we strive to achieve this goal.
Dan Milford, Corporate Director of Health & Safety – TF Warren Group